Black Hills Vacation Rental
Fishing – See Lakes or Swimming.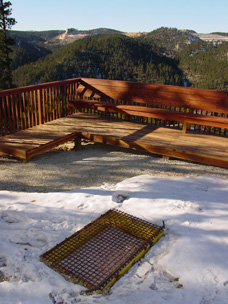 Fires – depending on weather conditions and the time of year, the Black Hills are prone to fires. Therefore, care should be given to open fires and fire postings by the Forest Service. Please be careful with fires and be aware of weather conditions that make wild fires more likely.

Fire pit – an outdoor fire pit and surrounding deck is provided. Usage is restricted to times with low fire conditions. Use only in low wind and low fire danger periods. The pit should never be left unattended and watered down when finished. Firewood and lighter fluid are provided.

Fireplace – a clean burning, no maintenance and automated propane gas fireplace is located in the living room. It is operated by remote control and is shut off in the summer.

Furniture – all new, including the two buffalo leather couches in living room. Picnic tables are on deck along with several Adirondack chairs.